readergirlz is currently blogging at
Current Mood:

accomplished
For more information contact:
Sara Easterly, Publicist for readergirlz
Sara Easterly & Friends
sara@saraeasterly.com
206-632-8588
READERGIRLZ PRESENTS "NIGHT BITES" ONLINE AUTHOR CHATS
More than a dozen authors to converge on rgz forum to chat with ravenous teen readers
September 18, 2008 (Seattle, Wash.) – In celebration of Young Adult Library Services Association's (YALSA's) Teen Read Week™, readergirlz (rgz) is excited to present Night Bites, a series of online live chats with an epic line-up of published authors. The chats will take place at the rgz forum, October 13-17, 2008.
Playing off of YALSA's theme of "Books with Bite," Night Bites will feature five themed chats designed to appeal to an array of literary tastes. Sure to suck in even the most reluctant teen readers, the complete Night Bites schedule is as follows:
Monday, October 13:

Multicultural Bites with authors Coe Booth (TYRELL), An Na (THE FOLD), and rgz diva Mitali Perkins (SECRET KEEPER)

Tuesday. October 14:

Verse Bites with rgz diva Lorie Ann Grover (ON POINTE), Stephanie Hemphill (YOUR OWN SYLVIA), and Lisa Ann Sandell (SONG OF THE SPARROW)

Wednesday, October 15:

Contemporary Bites with Ally Carter (CROSS MY HEART AND HOPE TO SPY), rgz diva Justina Chen Headley (NORTH OF BEAUTIFUL), and Maureen Johnson (SUITE SCARLETT)

Thursday, October 16:

Fantasy Bites with Holly Black and Ted Naifeh (THE GOOD NEIGHBORS), rgz diva Dia Calhoun (AVIELLE OF RHIA), and Tamora Pierce (MELTING STONES)

Friday, October 17:

Gothic Bites with Holly Cupala (A LIGHT THAT NEVER GOES OUT), Christopher Golden (SOULLESS), Annette Curtis Klause (BLOOD AND CHOCOLATE), and Mari Mancusi (BOYS THAT BITE).
It all happens at the rgz forum (http://groups.myspace.com/readergirlz) beginning at 6 pm Pacific Time (9 pm Eastern Standard Time), October 13-17.
Watch the Night Bites video at rgz tv www.youtube.com/readergirlz
About readergirlz
readergirlz is the foremost online book community for teen girls, led by five critically-acclaimed YA authors—Dia Calhoun (Avielle of Rhia), Lorie Ann Grover (On Pointe), Justina Chen Headley (Girl Overboard), and Mitali Perkins (First Daughter: White House Rules).
To promote teen literacy and leadership in girls, readergirlz features a different YA novel and corresponding community service project every month. For more information about readergirlz, please visit www.readergirlz.com and www.myspace.com/readergirlz, or contact divas@readergirlz.com.
About YALSA
For more than 50 years, YALSA has been the world leader in selecting books, films and audiobooks for teens. For more information about YALSA or for lists of recommended reading, viewing and listening, go to www.ala.org/yalsa/booklists.
Ó2008 readergirlz
Current Mood:

bouncy
Lorie Ann Grover, Holly Cupala, and Dia Calhoun will be talking about readergirlz and Operation Teen Book Drop 09 (TBD 09) at a Teacher Appreciation event at the University Village Barnes & Noble in Seattle on Wednesday, October 15 at 4:00p.m. Come and meet the divas! Start the ball rolling for this year's Rock the Drop for TBD by purchasing a book and donating it to Seattle Children's Hospital! Eat great food!
Then, at 6:00 we will be projecting our rgz LIVE! Night Bites chat on the bigscreen at the bookstore. So bring your laptop and join in the chat. (Be sure to join the rgz group forum--groups.myspace.com/readergirlz--in advance.)
We'd love to see everyone there! Contact the University Village Barnes & Noble for more information. 206-517-4107.
Dia Calhoun
Holly Cupala
Lorie Ann Grover


Join me, readergirlz, in welcoming Rachel Cohn and her amazing book
co-authored with David Levithan
Nick & Norah's Infinite Playlist
Now a major motion picture starring Michael Cera and Kat Dennings, Nick and Norah's Infinite Playlist is a comedy about two teens thrust together for one hilarious, sleepless night of adventure in a world of mix tapes, late-night living, and live, loud music. Nick frequents New York's indie rock scene nursing a broken heart and Norah is questioning all of her assumptions about the world. Though they have nothing in common except for their taste in music, their chance encounter leads to an all-night quest to find a legendary band's secret show and ends up becoming the first date that could change both their lives.
BookSense selection
Cybils (The Children's/YA Bloggers' Literary Awards) Winner for Young Adult Fiction
ALA Top Ten Quick Picks for Reluctant Readers
ALA Best Books for Young Adults (BBYA)
download this month's poster.
Join Rachel all month long on the rgz group forum
~the readergirlz divas~
This month rgz welcomes Paula Yoo, author of GOOD ENOUGH.
Patti's parents expect nothing less than the best from their Korean-American daughter. Everything she does affects her chances of getting into an Ivy League school. So winning assistant concertmaster in her All-State violin competition and earning less than 2300 on her SATs is simply not good enough.
But Patti's discovering that there's more to life than the Ivy League. To start with, there's Cute Trumpet Guy. He's funny, he's talented, and he looks exactly like the lead singer of Patti's favorite band. Then, of course, there's her love of the violin. Not to mention cool rock concerts. And anyway, what if Patti doesn't want to go to HarvardYalePrinceton after all?
OVERHEARD:
" . . . a funny story that will hit home for many readers." - Publishers Weekly
" . . . convincing narration filled with laugh-out-loud lines . . . the deeper questions about growing up will stay with readers." - Booklist
" . . . a lovable main character with a superb voice." - Children's Literature
"Yoo successfully combines the readability of a chick-lit novel with a fresh coming-of-age story." - VOYA
"The author reflects on the hard lessons of adolescence with humor and authenticity." - KLIATT
Nominated for ALA Best Books for Young Adults
Join Paula Yoo and the rgz divas to chat about the book all month long on the rgz MySpace Group Forum
This month on readergirlz we're featuring a trio of fun summer reads by Melissa Walker about a serious subject: body image. Pick up your copies of Violet on the Runway, Violet by Design, and Violet in Private.
A wallflower in the spotlight can do one of two things: wilt or blossom. Shy and insecure, Violet Greenfield's life changes forever when a lady in giant Chanel shades tells her she could be IT, the next Kate Moss. Tall, skinny Violet, who's been P-L-A-I-N practically forever, ends up walking runways in New York City, Brazil, and Paris. Juggling her best friends, her agent's shrill demands, and the pressure of the fashion world to stay thin at any cost takes its toll on Violet. When she finally does choose college over modeling, will she be able to stick to her decision? After all, if she's not Violet on the Runway anymore, who is she?
What people are saying:
"It's a hard sell, asking readers to muster sympathy for the congenitally gorgeous whose job it is to wear designer clothes and walk. In Violet on the Runway, Melissa Walker pulls it off." - The New York Times

"Think America's Next Top Model in book form -- only better." - NPR, All Things Considered

"A sensitive portrait of adolescence - simultaneously funny and painful." - Nylon Magazine

"A story for any girl who ever wondered what it would be like to have her wildest dreams come true." - Sarah Dessen

"You'll love the real voice of Violet." - Seventeen Magazine

An NYPL 2008 Book for the Teen Age
So join Melissa, the divas, and readergirlz around the world all month long on the MySpace readergirlz group forum to chat about Violet.
rgz
as we welcome
Jay Asher
in July! We'll be discussing his work
THIRTEEN REASONS WHY
.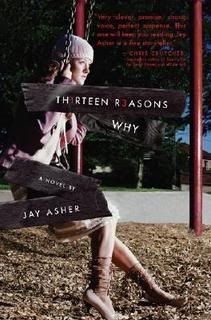 See the full issue at our
website
. Then chat with Jay all through the month at the
rgz MySpace group forum
. At Jay's
rgz LIVE!
on July 24th, 6 pm PDT, you can hang out with him for an hour. Drop us a comment at the
rgz MySpace profile
.
Hope to see you there, rgz!
~the rgz divas: Lorie Ann Grover, Mitali Perkins, Justina Chen Headley, and Dia Calhoun
Join
Current Mood:

touched
.
Read Laurie's full issue about her novel Prom at our
website
. Get all the latest updates, her playlist, and the postergirlz recommended reads at our
MySpace profile page
.
rgz LIVE! is on June 19th, 6:00 pm, Pacific, 9:00 pm, Eastern, at our
MySpace group forum
. Chat with Laurie throughout the entire month there as well.
Get your prom dresses on, and let's dance the month away, rgz!
~Lorie Ann Grover, rgz diva/author
The rgz divas are so happy to welcome Laurie Halse Anderson
Current Mood:

jubilant
This month rgz is celebrating Asian Pacific American Heritage Month with feature author Shannon Hale and her latest work set in Mongolia:
Sneak a peek at the postergirlz and divas' discussion below and then join us at the rgz MySpace group forum to chat with Shannon!
Read, reflect, and reach out, rgz!

Roundtable: Book of a Thousand Days by Shannon Hale
What would you do if you were locked up with your friend in a tower for seven years? Five people - one bookseller, one librarian, one huge Shannon Hale fan, and two published authors - gathered to chat about Book of a Thousand Days by Shannon Hale, the readergirlz
book selection for May 2008
. Luckily, we all brought our keys and our escape plans.

Miss Erin: Before we start, everyone should know that I am one of THE biggest Shannon Hale fans you can possibly find. I would say biggest, but I think the girls at the Little Red Reading Hood forum
would protest. Over there, we all pretty much tie for that position. I just thought that everyone should know that Shannon is my hero, and the most wonderful person I've ever met. Now that we've got that clear, let the conversation commence!

Lorie Ann Grover: I'm so glad Shannon was free to participate, Miss Erin. I did hear you hit the floor when you received the news.

Little Willow: Whenever I shelve Shannon Hale's books, I think of Erin because I know how much she enjoys them. Were any of you familiar with the folktale upon which Book of a Thousand Days was based?

Lorie Ann: No, I didn't know of the fairy tale.

Dia Calhoun: I'm not sure. I remember something about a girl being locked up in a tower, but maybe I'm thinking of Rapunzel!

Erin: No. I read it after I read the book, and was astounded by how many of the novel's themes and elements Shannon pulled from the original tale.

Jackie: No, and that's actually the cool thing about Hale's books. They are just dripping with fairy tale goodness, but she always picks obscure enough tales that you really don't know what you are in for. Both comforting and familiar in style, but fresh in content. This is why Erin obsesses.

Erin: Yes. Shannon Hale books are the ultimate comfort reads. Every time I reread one I love it even more (if that is possible!) than I did before.

LW: Do you consider yourself to be a fan of fairy tales and folktales?

Jac: OMG, like, do fairies have wings, and trolls carry clubs? I totally love 'em.

LW: Oh my goodness, Jac just said OMG. I love fairy tales and tales with fairies - the two aren't mutually exclusive - but apparently, Jac's more into trolls than moi.

Lorie Ann: I'm not a huge fan. But I am interested in the classic types you find in fairy tales and how those are repeated through so many different cultures.

Dia: Absolutely! I love the tone of fairy tales and have actually written a picture book in a "fairy tale" voice. I love the simple, clear, strong language. I'd love to try to write a whole book in this voice, but alas, I tend to get too complex.

Erin: A HUGE fan! Fairy tale retellings are my favorite genre of books!

LW: What is your favorite folktale, or who is your folkteller?

Dia: The Brothers Grimm, Hans Christian Anderson, and Andrew Lang.

Jac: I don't know why, but for some reason the only thing that comes to mind when you ask that question are tall tales, which I do love. My favorite is Clever Beatrice, a picture book. My mom got it autographed for me, and I love it.

Erin: I don't think I have a favorite. I love pretty much every fairy tale in existence. Fairy tales were the first form of fantasy literature I ever read. I read books and books of them when I was younger.

Jac: Oh! Also I love all the Paul O. Zelinsky illustrated fairy tales. Those are just gorgeous.

LW: I love retold fairy tales, especially when they are done well.

Erin: What is your favorite retelling? Shannon's books aside, I love Ella Enchanted by Gail Carson Levine, Wildwood Dancing by Juliet Marillier, and, recently, A Curse Dark As Gold by Elizabeth C. Bunce. To name only a few.

Jac: Oh! Ella Enchanted! Yay!

LW: I like Ella Enchanted - better book than movie, by the way - but Just Ella by Margaret Peterson Haddix is great.

Lorie Ann: I also love Donna Jo Napoli's work. Zel still haunts me! I, of course, treasure Dia Calhoun's Phoenix Dance, and Robin McKinley is just brilliant!

LW: Christopher Golden does a phenomenal job retelling well-known stories. For example, his novel Straight on 'til Morning sets the tale of Peter Pan in 1981 and makes it a coming-of-age story AND a horror novel. Brilliant. He also has a trilogy called The Veil in which a modern man must go on a quest with legends from all kinds of myths, such as Jack Frost and Kitsune, with the Sandman as their adversary.

Dia: I love Juliette Marillier's retelling of the Twelve Dancing Princesses. And anything by Donna Jo Napoli.

LW: Which Shannon Hale book is your favorite?

Dia: Oh, what a hard choice. I'd have to say Goose Girl. I think I like it best because it was one of my favorite fairy tales when I was a girl. I particularly remember an illustration of the Goose Girl that I used to gaze at for hours.

LW: To date, I've read four of Hale's novels - The Goose Girl, Princess Academy, Austenland, and Book of a Thousand Days - and enjoyed them all.

Erin: I seriously don't have one. It depends on which I've read most recently.

Jac: This very moment I'm going to say Book of a Thousand Days, but if I ever get around to reading the Goose Girl books - ducks from invisible flying objects coming from Erin's direction - my answer might just change. I do have a special little place in me heart for Austenland, I might add. It's funny, though. Even though Austenland is the one without fairy tale/fantasy elements, it's still sort of a fantasy - just one that we create every time we open a book and start reading about the perfect love.

Erin: JACKIE! READ THEM! AAAHHH! Oh, and "the Goose Girl books" actually have the series name Books of Bayern. Just thought you should know.

Jac: I know, but I was too lazy to go look the series title up before I spoke. Remember who attended TWO Shannon Hale/Libba Bray appearances with you, WITHOUT directions, and getting LOST like five times, JUST to feed your obsession. I'm not full of ignorance. Maybe like, a quarter full...

Erin: Yes, Jackie, you rock. That night rocked. Even the getting lost kind of rocked, once we got un-lost again.

Lorie Ann: While you two carry on, I'll say the images in Enna Burning stay in my mind the most.

LW: I know Erin's answer to this: Do you tend to read and enjoy stories told in diary format? I do. She doesn't.

Jac: I do. There's just something so approachable and, if done correctly, visceral about them. Of course if they were real diaries they'd be painful to read (go ahead, try NOT to cringe at your 12-year-old self's diary), so I much prefer the fictional ones.

Erin: I'm not usually a fan of diary-formatted books. Book of a Thousand Days, however, got the feel of a real journal just right.

Dia: It depends on the book. When it's well done, as in this case, I thoroughly enjoy it.

Lorie Ann: It's not my first choice, but Shannon did so well with the format. In other books, I feel distanced from the dialogue and action - although I do love the Confessions of Georgia Nicolson series!

LW: This book has a cat. Sorry, this isn't a question. This is a statement. Pardon me as I quote Holly Golightly and scream, "CAT!"

Dia: I'm screaming, too. I loved My Lord the Cat. I can imagine what a comfort he must have been to Dashti.

LW: My cats were always a comfort. I miss them terribly.

Miss Erin: If I ever get a cat I will name him My Lord the Cat. Yes, I am that big of a Shan-fan. One of my two favorite scenes in the book (I'm not going to tell either because of spoilers) involves the cat.

Jac: Cat? Oh. right. He was persnickety.

LW: Make that purr-snickety. I can't deal with it when pets don't live in books. I was quite pleased that this cat survived the tale!

Lorie Ann: The cat was wonderful! One of my favorite characters! Did everyone enjoy the drawings? Did they help set the place for you?

Dia: I loved the drawings.

LW: Kudos to illustrator James Noel Smith. Whenever books feature characters who are artists, I yearn to see their paintings or hear their performances. It was so great to see Dashti's artwork within the context of the story.

Lorie Ann: The drawings did enrich the story. They helped me to see, through beautiful lines, this unfamiliar place. Thanks, James! And thanks Shannon for bringing us even closer to Dashti by giving her an artistic hand.

LW: What did you all think of Saren?

Dia: I'm so glad that Saren evolved into a strong young woman. I was so worried for her for much of the book.

Lorie Ann: I, too, was worried about Saren. I also was irritated and frustrated with her. Weren't you all? And then I rejoiced! She grew as much as Dashti, didn't she? In a believable way.

LW: Without spoiling any big plot points, were there any parts of this story that made you cry?

Dia: Dashti's selflessness made me cry. I don't think I'd be able to do that for anyone, myself.

Lorie Ann: No, I didn't cry, but I was very engaged by the story. I love Dashti's voice and the new world she brought to me in such simple lines as this: "It's a shame I don't have fresh yak dung or anything strong-smelling to scare the misery out of her."

Lorie Ann: Didn't everyone love the songs Dashti can sing. Don't you wish you had such powers?

Erin: YES. The power to heal using songs would be amazing.

LW: I love music, and I love singing. I don't long for supernatural singing powers outright, but I'd love to one day hear that the songs I write and sing bring happiness to others!

Miss Erin: Let's talk getting locked away in a tower for seven years with someone. Would you be brave or loyal enough to do that? What would you try to do to keep yourself from going crazy?

Jac: Gosh. It is highly unlikely that I would be loyal enough to that princess to do it. I think maybe if the tower had computer access and a library. Then maybe. But not that tower, or that princess, or those RATS!

LW: I couldn't be locked up anywhere for any duration of time. I am constantly in motion - my legs are dancing, walking, my lips are moving, I'm talking, singing. If and when I'm sitting, my fingers and eyes are moving because I'm reading, writing, typing.

Lorie Ann: For my children, I would. And you can always write. John Bunyan was locked in a tower prison and wrote Pilgrim's Progress. Perfect!

Dia: Does the tower have a big window that looks out onto a splendid ever-changing view? Then maybe, if I had books and paper and a treadmill! But I still think I would want a change after about a month. Is there chalk? Can I draw on the stone walls? Three things I take into the tower with me: Cat. Books. Paper/pen.

LW: I like the sound of that. Let's end the roundtable on that note.

Discuss Book of a Thousand Days by Shannon Hale at the readergirlz forum
.

Learn more about the book and its author in the May 2008 issue
of readergirlz
.

Check out previous roundtable discussions at Bildungsroman.
Current Mood:

accomplished